Umbrella Company - ADMINISTRATION CHARGES

A weekly fee of £12 per invoice


No invoice no fee


5% charges to process your expenses


Annual Tax returns at £85 (only if required)


For every friend you introduce and use our services, then we shall reimburse £25 to you
[Other Accounting Services, minimum charge of £25.00(+VAT if applicable)]
Personal Service Company - ADMINISTRATION CHARGES

No charges when you do not work


£25 per payroll week for unlimited number of invoices per week


5% charges to process business expenses


Company Setup cost - £150.00


Accounting Fees - £25.00 x number of weeks worked

[you will have to keep record of all the invoices, remittances from the agencies, bank statements. Record expenses with the receipts. All records should be kept on Excel]

Annual Return - £25.00 [Optional]


Personal Tax Return - £175.00 [Optional]
Other Accounting Services, minimum charge of £25.00(+VAT if applicable)]

Once you have registered with us, you can either enter your timesheet details on our website or call us on 0208 206 1234. Alternatively, you can fax a copy of your timesheet to 0208 204 4343.
We will then invoice your agency and on receipt of payment from them, we will transfer funds as per your instructions to your personal account bank account via BACS within three days.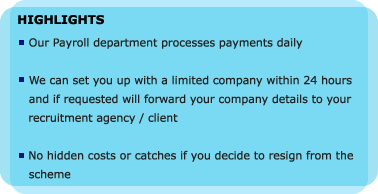 Alternative Accounting Package

Alternative Accounting Package for only £875.00 plus VAT (To be paid - £85.68 per calendar month by direct debit)

It would include:


Company Accounts[End of year accounts and Corporation Tax Return]


Annual Return at Companies House


Relevant company tax queries
You will be responsible to prepare the invoices and maintain Computer Bookkeeping.
For further information contact us.
Earn more money!


Introduce a friend to us and if they use our services, we shall reimburse £25.00 to you
Call our team now


0208 206 1234